Swagazine #4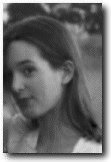 Airalin is a 20-year-old Batman-wanna-be from Santa Barbara. She minors in Music at Lewis and Clark College when the weather isn't too harsh, and in her spare time she likes being rowdy and writing poems like Another Spring and Innocence.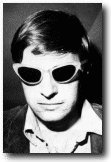 Colin Campbell has been a writer and publisher for the Santa Barbara telecom 'zines since their origin over a decade ago. He has a knack for writing good science fiction stories like The Girl of the Month Club, which was previously published in Dragon's Breath Magazine #2.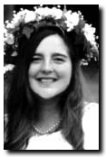 Dee Dreslough is a video game artist working in Middletown, Connecticut on a soon-to-be released sports franchise simulation Baseball Mogul. Dee's specialty is fantasy art, but she's pretty flexible and willing to tackle almost any subject matter. She proves it in this issue with her illustrations for a little reading nietzsche story, The Wind, Don't ask me, One Way Trip, and The Appointment.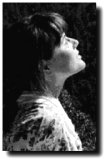 Jillian Firth is a 39-year-old librarian and mother living in Cameron Park, California. Cloudy Days and The Wind are the first of her poems to be published, though she has written a fairly extensive collection of both poems and short stories. Jillian's sister Pamela did not know she was writing until just over a year ago. "I picked up a poem from her desk," says Pamela, "and asked about the author. I was quite impressed. 'When did you start writing poetry?' I asked her. She replied, 'Last Tuesday.' I guess for some the muse comes suddenly."


Ricky Garni is a writer and elementary school teacher from North Carolina. He has written five books of poetry so far, and his sixth and personal favorite, Words That Don't Fit Into Buildings, is on the way. Ricky has published poetry and prose in publications such as No Exit, Tight, Poetry Motel, The Quarterly, Makar, Pif, Paper Box, Podunk Review and an upcoming issue of Oyster Boy Review. Two new works, Soft Kiss and a little reading nietzsche story, mark Ricky's first appearance in the Swagazine.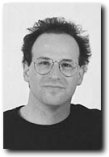 Philip Greenspun is a photographer and the publisher of photo.net. His photographs accompanying Cloudy Days and Obey were taken in the backroads of New England, and his photo beside Innocence is intended as a visual statement against date rape. His real dead trees book on Web publishing is due out any day now. Philip lives in Cambridge, Massachusetts with his dog Alex.


Richard Miller lends two photos of his tree house in Morton, Illinois to The Carpenter. He began construction of the house in in 1994 and plans to have it finished this summer.


Mordrak, a former resident of Santa Barbara telecom, is currently attending college in Portland, Oregon and lives in a hole in the wall that college housing calls an apartment. He doesn't really know where he is, nor does he know where he's headed with college, but at least he's gained an astute appreciation for the many microbreweries that are located in Oregon. Mordrak returns to Swagazine with his story "i killed my god," said the child. If you ever get a chance to visit Portland, Mordrak's usually at home, so bring beer and other miscellaneous things you think he might enjoy.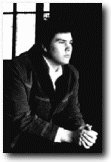 Lawrence Norton is a 17-year-old high school junior living in a small town in Iowa. He has been writing for three years and Don't ask me is his first poem to be published. Lawrence is working on a book, as well as a project combining poetry with multimedia for a less monosensory experience that can be seen and heard through the Internet.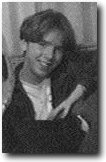 Mr. Pube has been part of Santa Barbara telecom for about five years and has previously been published in Swagazine #3. He is 16 years old and is currently in his junior year of high school with plans to study film writing in college. "It's not to be taken seriously," he says of his short story Night of the Living Old. "It is a parody of horror fiction and cinema and the clichés within them. Night of the Living Dead and From Dusk Till Dawn were probably the most influential on my writing. The purpose of this piece is to allow the reader a view of what I feel to be the scariest part of my life: visiting my grandma."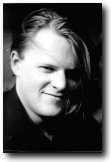 Aidan Butler, a.k.a. Bryant Stith, has been a member of Santa Barbara telecom off and on since the eighties and is a regular contributor to Swagazine, usually under a different nomme de plume each time. As a struggling writer living in Los Angeles, he keeps busy in unemployment by attending Southwestern law school. Aidan has produced three new poems for this issue -- Agent Orange, Obey, and an untitled piece. He also gives us fiction with The Carpenter as well as several scenes from an unfinished play entitled Shopping.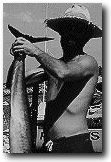 Swagman, his "real" name long lost in a hard-disk crash, former sysop of Swagland and the founding publisher of the Swagazine, lives in Santa Barbara with his beautiful wife, three lovely children, two dogs, one bird and a tank of dead fish. Swagman is currently undertaking a "mid-career sabbatical" to expunge the deleterious effects of modern, high-speed corporate life. Somehow he managed to find the time to unearth Shh!, Juice Dreams, Dust in my eye, and The Other Night from his poetry collection. When he's not out sailing, he sometimes stands up in public places to read his poetry to perfect strangers using the name, "Billy" -- which also happens to be the same name his mother calls him.


Bryan Zepp Jamieson lives on the slopes of Mt. Shasta with his wife, Paris, three dogs and three and a half cats. A former resident of Santa Barbara, Zepp has been a previous contributor to the Cosmic Charlie magazine, Catch-32, and other amateur 'zines. He returns to the Santa Barbara publication scene with his whimsical story One Way Trip. Zepp's modest professional background in writing includes a stint as a forest issues magazine editor for three years, and an unhappy knack for being accepted for publication by small houses that go bankrupt shortly thereafter. Despite this, he doesn't even own a pair of black Nikes.




 


© Copyright 1997 by Swagazine, All rights reserved.