"Books only partially represent their authors;
the writer is always greater than his work."
- Christian Bovee


---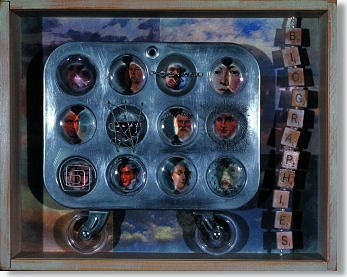 Bill the Cat (Cat Poems) is sometimes found lurking around the Santa Barbara local BBS scene. He usually pops up about once or twice a year, posts a bunch of poems, then disappears without a trace. His longest hiatus has been about two years. O sweet Bill, where art thou?

Janet Buck (The Red Shoe) has a Ph.D. in English and teaches writing and literature at the college level. Her poetry, poetics, and fiction have appeared in A Writer's Choice, The Pittsburgh Quarterly, Kimera, Southern Ocean Review, San Francisco Salvo, The Suisun Valley Review, Pif, and hundreds of journals world-wide. In 1998, 1999, and 2000, she has won numerous creative writing awards and been a featured poet for many publications. Two of Buck's poems have been nominated for this year's Pushcart Prize in Poetry and she is a recent recipient of The H.G. Wells Award for Literary Excellence.

Aidan Butler (Robotica) who lives in Los Angeles although he is not an actor, has contributed to most issues of Swagazine including a special issue devoted entirely to his work. Mr. Butler has been very nasty lately -- really quite vicious -- and he probably does not deserve your attention. Please just ignore him.

A former child model, Colin Campbell (Old Al) was the radio voice of commuter airline Apollo Airways in the 1980s, dazzling the earbones of millions of consumers from San Diego to Seattle. Colin performed for three years in the Santa Barbara improv group Zero Gravity Theater. After working with the Stress Institute and SimSoc at UCSB, Mr. Campbell created the City of Santa Barbara's drought information network in the early 1990s and brought into existence the first California Rotisserie Baseball league. Today he is webmaster at a Silicon Valley technology company and is determined to finish his novel Slingship Sam The Asteroid Man by the end of 2001.

Jim Andrew Clark (Kona) has been featured under various pseudonyms in Swagazine, Lip Think, Dragon's Breath Magazine, Kimera, The Inditer, Panick Attack Magazine and The Morpo Review. Mr. Clark was born on a levee, under a bad sign, and he has the blues early in the morning, whoa Lord you know he has the blues late at night.

Scott Goodhue (Hoping for a Better Half) works as a technical writer and lives with his wife, a casting director. He has previously had fiction published in Shallow End.

Ricky Garni (Intimate Portraits) is a wine merchant, teacher, and bicycle collector. His work has been published in Pif, The Quaterly, No Exit, The Poetry Project, Big Bridge, Stirring and others. This marks his third appearance in Swagazine. His latest work, Wardrobe, is available through the mail if you want to write him and ask him for it. He will pay the postage if he as he feeling a little ritzy at that moment.

John Horváth, Jr. (History of the Dividing Line) has published since the 1970s. His most recent poems are featured in The Hard Wind, Amashumqua, Red River Review, Audax, The Inditer, and Poems Niederngasse. He enjoys writing about the strange and stranger among or within us; about where events, experience, history, and memory mingle.

Bryan Zepp Jamieson (At the Beginning of Days) was one of the earliest participants in the Santa Barbara literary scene, coordinating writing contests on his Renaissance BBS system. He keeps a list of things he will do for ten dollars taped to the side of his cardboard box domicile next to a dumpster behind Fred's Bait and Ammo, a well-known social center in Mt. Shasta. Zepp is currently working on a collection of essays written from a liberal/leftist perspective, and he steadfastly denies being in Dallas on November 22nd, 1963.

K. Johansen (Really Short Stories) is a photographer and graphic designer. She has also returned to college for another degree, this time in Photography. Not too long ago Kia could be found on a few BBS systems in Santa Barbara; nowadays she's too busy to even answer her email.

Megan Kitchen (Illustrations: The Navigation of Desire, Hovering Above Logic, The Magic in Telling, Submerged in Modern Myths, Life Death Life, You And Your Grief, Ascending to a Half-Remembered Future, The Process of Transformation, and The Matrix of Being), a Santa Barbara native, has a BFA from Parsons School of Design in New York City. She also studied for a year at the Nova Scotia College of Art and Design before returning to Santa Barbara in 1980. Her award-winning mixed media work has been exhibited in Santa Barbara, Los Angeles and New Mexico. More of her work and information about upcoming exhibitions can be found at her online gallery at www.megankitchen.com.

Vera Linn (Miriam) was born in Lompoc, CA and raised in Santa Maria. She earned a BA in Literature from UC Santa Barbara and is currently earning her MFA in creative writing/poetry at UC Irvine. Recent publications include Anthology of Orange County Poetry, IVY, UCSB's Spectrum, and UCSB's Into the Teeth of the Wind. Ms. Linn likes watter buffalo, the Virgin of Guadalupe, dancing, and lurking on the Barbaria BBS.

Mordrak (Fun With Words) is a veteran of Santa Barbara telecom. The year 2000 has been a rough one for him, including but not limited to 1 car accident, 2.3 near-death experiences, 2.5 revisions of his philosophy and a renewed idealism in reshaping the world for the better. Mordrak is currently residing within enemy territory deep in the folds of the Orange (county) Curtain.

Lawrence Norton (Oh well now) is currently working as a freelance Internet consultant in southern California and starting a production company for younger generations to outlet their creative needs.

Psyche (Waiting in October), a former Santa Barbara resident, is on the move. Right now she's in New York City getting dirty and cold. Like everyone else in that town, she has delusions of grandeur and thinks that becoming famous will feed her ego. She did not invent the Internet. She used to be cool but now she's not. She writes about the sky a lot because it's always there. Her chapbook Lamps & Fires is soon to be published by Lip Think Press.

Swagman (Quiet Mind) started Swagazine almost a decade ago on the BBS he ran out of his house in Goleta, where he lives with his wife and three children. When he's not drinking coffee he's wandering around his studio in search of the next color for one of the paintings he's currently got in process. His paintings are hanging in galleries throughout Santa Barbara.



---




If you wish to contact any of the talent featured in this issue, please send an email to and your comments will be passed along.

 
Swagazine 9
Winter 2001


---


« POETRY »


« FICTION »


« Biographies »


« Masthead »


« Home »



---